Complete and affordable email archiving solution enabling to effectively index and preserve all emails
The Barracuda Message Archiver enhances operational efficiencies and enforces policies for regulatory compliance. By leveraging standard policies and seamless access to messages, email content is fully indexed and backed up to enable administrators, auditors and end users quick retrieval of any email message stored in an organization's email archive.
Comprehensive archiving
Exchange stubbing
Search and retrieval
Policy management
Intelligent Storage Manager
Roles-based interface
Reporting and statistics
Powerful
The Barracuda Message Archiver provides everything an organization needs to comply with government regulations in an easy to install and administer plug-and-play hardware solution. The Barracuda Message Archiver stores and indexes all email for easy search and retrieval by both regular users and third-party auditors. Backed by Energize Updates, delivered by Barracuda Central, the Barracuda Message Archiver receives automatic updates to its extensive library of virus, policy definitions to enable enhanced monitoring of compliance and corporate guidelines, document file format updates needed to decode content within email attachments, as well as security updates for the underlying Barracuda Message Archiver platform to protect against any potential security vulnerabilities.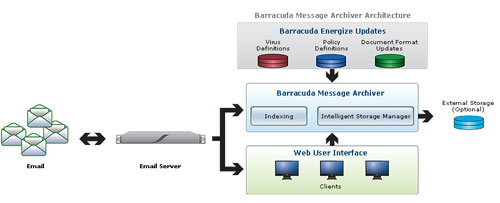 Easy to use:
The Barracuda Message Archiver features an easy-to-use Web user interface, creating an intuitive and cost-effective administration tool for the integrated hardware and software solution. The Web user interface allows administrators to define, manage and control corporate archiving settings and rules from one central location.
Affordable:
Unlike competitive offerings, the Barracuda Message Archiver has no per user licensing fees, no hardware issues to attend to, no database integration headaches and no security holes to patch, making it the most affordable and reliable email archiving solution available today.