University? Dean of Scientific Research? Institution? Research Center?
RMTS will help you organizing your Research Management & Tracking Processes
Research Management & Tracking System (RMTS) is a comprehensive solution that serves enterprises and associations that support and supervise scientific research and development such as university Deans of Scientific Research, associations for scientific research, or scientific research support organizations.
RMTS helps organize and manage the scientific research process according to its standard life cycle, as well as facilitates the communication processes between affected stakeholders such as investigators, reviewers, and research teams.
RMTS can be deployed inside an enterprise intranet or via the internet, allowing widespread use of the data regardless of time and place.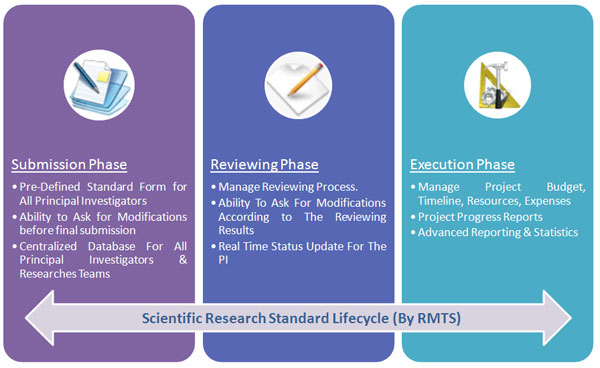 The Main Features of the RMTS Include Storage and Management of:
Real-time status of scientific research projects;

Progress reports for approved scientific research projects (i.e., scheduled reports, budget, expenses, financial details, final reports);

Categorization of scientific research sorted by multiple dimensions (i.e., university, track, college, field of specialization);

Critical personal data of the research team and reviewers (i.e., contact information, curriculum vitae, and qualification summaries);

Materials and devices used with the scientific research sorted by multiple dimensions;

Review process status and details;

Publishing process status and details;

Unification and standardization of scientific research format.
Still Need More:
Then Read Our Case Studies For RMTS: